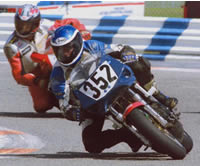 Hello, I am Rich Desmond and I am passionate about riding motorcycles. Over 30 years of riding experience has taught me that well prepared street, track, and off-roading equipment makes the whole experience more enjoyable and safer. The suspension of your motorcycle is a major factor in this equation.
We promise to offer the BEST quality suspension components with no hassle and with an exclusive lifetime warranty. We appreciate your business and look forward to meeting your suspension needs, now and in the future. -Rich Desmond
Rich racing at Daytona!